In the Northern Hemisphere, spring feels finally underway – and following a long locked-down winter, it can't come soon enough. For many of us, even if meteorological spring started nearly 2 weeks ago, the promise of summer starts when the clocks go forward to daylight saving – or summer – time.
If the country or state you're in observes summer time, then you're either about to enter (if in the northern half of the marble) or leave it (if southern). To keep us on our toes, this movement back or forth often happens around the world on different dates. To keep us on our toes, some countries have less-than-hour gaps between time zones, and in the past, others have decided to change time zone permanently.
In olden days, some people wore GMT or World Time watches, which allowed the user to tell what the time was in different locations. With the World Time example here, the red arrow hand points (on a 24hr scale) to the current time; when the user rotates the outer bezel so that the nearest location is pointed to by that hand, the other locations listed on the bezel will be aligned with the 24hr number of the current time in those places…
– eg if it's 2:30am in Iran, then lining Tehran up with the red hand would put both London and Paris at midnight, since they're both at GMT+1.
eh? In October 1968, the UK decided to move to British Standard Time – GMT+1 – all year round. This particular wristwatch was produced between 1968 and the end of 1971, when the practice was reversed – so for a while, it was correct that London would be in the same time zone as Paris and Rome. Except the watch wouldn't know when Paris and Rome went into summer time, thus putting them an hour further ahead… oh well, never mind.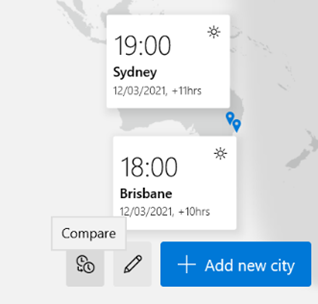 There may be trouble ahead
In a global working environment, especially one where everything is done online rather than having people in the same location, the friction of time zones changing has never been more obvious. Usually, you'll only move through time zones relative to everyone else when you travel – flying across large distances, or maybe just driving across a bridge or dam.
But now, a digitally-oriented meeting can shift its time for some of its attendees, relative to the others – depending on where the originator is based.
The excellent Alarms & Clock app, which is part of Windows 10, lets you pin cities around the world to a map, showing their approximate location (bet you didn't know Brissie was south east of Sydney?) and what the time is currently, and if you click the Compare icon to the left of Add new city, you'll see a grid indicating the relative time in all of your pinned cities. You can jump to a specific date, so if you're planning a meeting with people in different time zones, it might be a good idea to check what the impact of Daylight Saving Time (DST) changes might be.
Those parts of the US which observe DST, are due to move an hour forward this coming Sunday (ie March 14th). In common with doing things differently to everywhere else, that brings the US (and Canada) one hour nearer most of Europe for the next two weeks, until the end of March. Much of the southern hemisphere comes out of DST the week after that, so by then Sydney will be two hours nearer London than currently.
More info.
The impact of this can be seen in peoples' calendars, when regular meetings somewhat inexplicably start to clash with each other – if a UK organiser set a recurring meeting for 4pm GMT, that would normally compel Seattleites to be there at 8am, but since they'll be only 7 hours behind for a couple of weeks, that shifts to 9am in their calendar, potentially clashing with some existing 9am Pacific Daylight Time meeting.
Conversely, a 9am PST / 5pm GMT meeting as created by the person in the US a few weeks ago, would now start at 4pm in the afternoon in London. Great news if that meeting is a Friday afternoon, as it brings beer o'clock one hour forward.
Although Outlook does a pretty decent job of juggling the differences between time zones, there is no obvious way to show what time zone a meeting had been created in (eg show me all meetings that are going to be affected by this shift for the next 2 weeks). A simple trick if you want to check on a specific meeting, is to start a Reply to a meeting you've been invited to, whereupon you'll see the time zone of its creator…
—–Original Appointment—–
From: originator

Sent: 14 February 2021 08:03
To: people

Cc: more people

Subject: meeting that could have been an email
When: 12 March 2021 08:30-09:00 (UTC-08:00) Pacific Time (US & Canada).
Where: Microsoft Teams Meeting
While It won't help you identify the meetings that are causing the clashes, it might help restrain you from firing angry missives at the organiser of the meeting, if you know what's causing it.