OneNote has been part of the Office suite since 2003, and has been freely downloadable for much of that time; it's an invaluable tool for note taking or just capturing information that you'll want to recall at some point. There have been a few sideways turns in the roadmap, though – as well as the Office application (on Windows and Mac), there is OneNote for mobile devices, OneNote the web experience and OneNote the "Modern" Windows app.
To try to simplify the roadmap somewhat, the app formerly known as OneNote 2016 is now just "OneNote", and the Store app that shares more of its UX with the mobile and web versions, is OneNote for Windows 10. For more detail on the differences between all the versions, see here.
At one point, the plan was to discontinue the more functional desktop app, and shift development to the simpler Store version, however that plan was rowed back and OneNote (the Office app) will continue to be part of Office, even though it wasn't installed by default in 2019. The perpetual version of Office (as opposed to the subscription service that is Microsoft 365) will be updated later this year, and OneNote will still be part of that. Probably.
There's not a lot being published on the Roadmap for OneNote, though, so it may not be getting hosts of new features… See here for a list of some recent updates to OneNote for Windows 10. You can jump to the latest What's New from the Help menu in the Store version.
As has been covered on ToW passim (here, here), you can start OneNote from the Run command, by pressing WindowsKey+R then onenote <enter> for the desktop version, or onenote: for the modern Windows 10 version. In the latter, you can also pin particular pages to the Start menu, handy if you want to jump to a particular page of quick notes or ideas.
Any version of OneNote is just great at noting down lists – perhaps by using your pen (though if you're a big inker, you might want to also check out Journal by Microsoft Garage – it's a notebook intended for "ink first").
Or maybe by typing a quick few lines at first, and formatting as a list once you've got some text. There are some shortcuts to help that formatting; in both OneNote and OneNote for Windows 10, to quickly select what you've just typed, hold the shift key and press the up arrow to grab a row at a time.
If you press CTRL+ . on selected text, it will turn into a bulleted list, or press CTRL+ / to make it numbered, and the same combination will remove the list formatting.
To create a table, just press TAB to turn whatever you've just typed into the first column, and keep pressing TAB to create new columns, or CTRL+ENTER to accept the column layout and start adding extra rows, or to insert a new row into an existing table. Once have content in your table, you can easily move rows around by simply putting your cursor in the row you want to shift, and hold ALT+SHIFT then use the up / down arrow keys to move that row. Much simpler than faffing about with copy & paste.
On the full-fat version of OneNote, you could also select your list and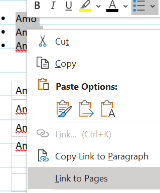 by using the somewhat obscure-sounding menu option "Link to Pages", OneNote will create a new page for each item in your list and then make a hot-link to it. Hover the mouse over to see the link.
You can manually create links to any page by selecting the text you want to hot-link from, and press CTRL+K; then either select the destination in the dialog box, or paste the link to the page (or paragraph) if you've already copied that link to the clipboard.
If you're going to be doing much with tables, it's probably better to use the OneNote app rather than the Store one; the older tool has much richer table formatting capabilities, and it also has an Addin architecture which is completely absent from the OneNote for Windows 10 version.
The fantastic OneCalendar addin shows you all the notebook pages you've worked on by date, so if you spread your note-taking across a variety of sections or even shared notebooks, then it can be invaluable to jump right to the notes in question.
Its big brother, OneTastic, also allows using pre-written Macros to automate tasks like custom sorting of sections and loads more.