As more AI hoo-hah continues to pour from the hype machine of big tech, some of the puffed-up services are starting to become more accessible. Even if it's still badged as "preview", Bing's AI chat is now more widely available and further functionality will be along soon.
Stepping onto the bandwagon before it fully departs, AI technology behind Google's Bard chatbot is being embedded into Search, as announced at Google's I/O conference, whose theme was all about how everything is being re-engineered to embrace generative AI. El Reg has neatly summarized the keynote here if you're interested to learn more ("We sat through the Chocolate Factory's PR blitz so you don't have to").
Google announced copilot-like functionality for its cloud productivity suite while Microsoft unveiled the M365 Copilot preview that's been running for a few months, is being extended further.
Not all is rosy in the garden of AI, however. Distinguished scientist Geoffrey Hinton, a Turing Award winner and widely-described as "Godfather of AI", has walked out of his Googly role amid concerns that AI will become sentient and enslave or kill us all. Interestingly, Hinton did not sign the Elon Musk-backed petition to halt AI development, effectively saying that if those currently working on it were to stop, others would pick up the baton. Microsoft's chief scientist agrees.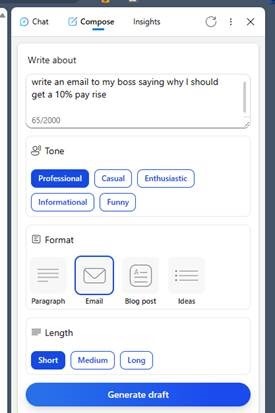 Making AI pay for itself is one challenge that will need to be addressed, as the intensive computation required can be very expensive – costs of running ChatGPT are eye-watering, according to OpenAI's boss, and reckoned by some to be in the region of $700K per day. Still, investors can't get enough of it and OpenAI is piloting a $20/month ChatGPT Plus subscription.
The expanded M365 Copilot preview is a "paid-for" thing, and Microsoft's Q3 earnings call did mention that Copilot will be additionally priced over and above whatever Office licenses a customer already has (though some AI related features will show up in E3/E5 licensed environments, such as the new Semantic Index which can be harnessed by Copilot but will be useful for giving more accurate search results even if Copilot is not in use).
Back in the present, there are some relatively new practical capabilities in both Bing AI and in the Edge browser's discover feature, as discused in last week's ToW. The Compose feature in the Sidebar lets you play with generating different types of written content, the kind of thing which will be integral to Copilot in all kinds of Office applications before long.
The Insights tab on the same Sidebar gives you more info on the page you're currently looking at, from a summary of the key points of the page, to some background on where that site is accessed from, how likely it is to be reliable and more.
The core Bing AI search in a browser – in case you're itchy about using Edge or its Bing Sidebar – has some new
capabilities, especially the integration of Bing Image Creator, which is available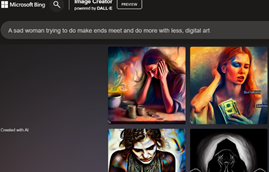 separately from the AI chat function.
Another one of OpenAI's groovy tools – Dall-E – generates images based on a text description, and Bing AI chat can feed directly into that.
The image generation capability is now multi-lingual (with over 100 languages supported). It will also soon be possible to upload images to Chat, so you could ask it questions about what's in the image.
All free for now, but someday soon, we will need to pay the ferryman or the robot overlords will wreak their revenge.