This might be a very old-Microsoft culture thing, but alias names have always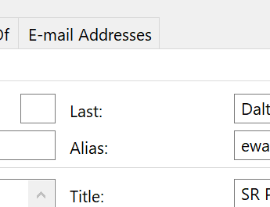 been a relatively big deal within the company; not an alias in the sense of a nom de plume or some alter ego, but a name curiously given to mean your login name.

Before enlightenment, Microsofties were emailed simply by sending to alias@microsoft.com – and still are, so even if the primary mail address is forename.surname@microsoft.com, you could still mail them at forenams@microsoft.com, or whatever their alias is.
The alias, or logon name, at Microsoft was historically an up-to-7- or 8-letter moniker, based by default on surname|first-letter-of-forename, eg billg or steveb.
In a company with a handful of people, it was easy to remember such a name for when you wanted to drop them an email, but with hundreds of thousands of mail addresses, you might need more room – when Exchange Server came out in 1996, it supported 64 characters in the alias name, though oddly, Microsoft has never embraced longer than 8-character aliases.
Back in the day, your mailbox was a folder on a Xenix server, then an MS Mail postoffice, and the folder names were restricted by the 8.3 filename format. There are probably too many legacy systems that also have an employee name represented by their 8-letter alias, and it still kinda works.
Aliases – and the cultural phenomenon of calling people not by their name, but by their alias… eg "we had a billg review" – were a central part of the 1995 Douglas Coupland book, Microserfs.
Some people at Microsoft still talk about an email distribution list as an "alias" – eg. "TAKE ME OFF THIS ALIAS!!" as a Reply-All (as opposed to a little "r") to the occasional mail storms that amazingly still happen. They're wrong – those are Distribution Lists (DLs) or maybe more correctly, Distribution Groups (DGs).
But the true "alias" lives on, even if the Skypey "Contact Card" UI in Outlook does its best to not show you what someone's alias is (but you can usually still get to Open Outlook Properties, which shows you the traditional Outlook address book view, with alias in the very top section). Lots of reports from Microsoft's internal systems will refer to an employee using their alias name, so it often helps if you can decipher an alias into the person behind it.
Resolving an alias to a name one-at-a-time is all very well, but when looking at a column of alias names in some spreadsheet, it's a bit of a palaver to turn each of the FORENAMS into something meaningful.
Bulk alias resolver in Excel
Fear not, worthy reader, for a solution is to hand.
Simply download this macro-enabled Excel workbook, and unwip it/open it/save it somewhere locally
Click on the Enable Editing, then the Enable content button, so the macro can do its stuff
Now paste your list of chosen alias names in column A, then click the resolve button
The macro will now go through each alias in the first column, and resolve the name, then stick it in column B, if it can. If the name doesn't work, then column B will just be the same as the alias in column A
This can be handy if you're building Excel reports and want to add names to a table instead of aliases – you could sort the list of aliases alphabetically, run them through the resolver, and then reference the table with a VLOOKUP formula so you could hide the column of aliases from your report and show instead the derived real names.