Power Users often like to start applications quickly, without recourse to grubbing around with a mouse or a trackpad. Super Users might even want to write scripts that automate all sorts of things that mere mortals with less time on their hands are happy to do manually. Regardless of your penchant for automation, here are a few short cuts you can take to quickly start apps that you use often.

Apps pinned to taskbar
The taskbar in Windows obviously shows you what's currently running, but can also be used to pin frequently accessed apps or – by default at least – those that Windows thinks should be frequent (Edge, Store, etc – right-click on them to unpin if you disagree). You'll see a highlight line under the apps that are running, so those without the line are simply pinned there.
If you start typing the name of a favourite app at the Start menu,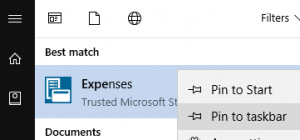 then right-click on it in the list, you can choose to pin it. So far, so good.
If you drag the pinned apps around, they'll stay in that position relative to each other, and new apps will always start to the right (or underneath, if you use a vertical taskbar, as you really should). Now, if you press WindowsKey+number, you'll jump to the app that is n along the line, and if that app isn't running, then Windows will start it. So in the picture above, pressing WindowsKey+2 would start Edge, or WindowsKey+3 would bring Outlook to the fore.
Shortcut to desktop
You could try an old-skool method, by creating a desktop shortcut to apps that are already on your Start menu – press WindowsKey+D to show the bare desktop itself, then press Start to show the actual Start menu.
Assuming your Start menu isn't full screen then you'll be able to drag icons or tiles from the menu to the Desktop, and if you right-click the shortcut and look at Properties, you'll see a Shortcut key:
option… just press some key sequence that makes sense to you and press OK to save.
This method differs from the taskbar one above, because each press of the shortcut you set might start a new instance of the app (if it supports that) – which may or may not be desirable. If you end up with several windows of OneNote, for example, you could cycle through them by repeatedly pressing the appropriate WindowsKey+n as above.
Keep on Running
There's no better mark of being a real PC deity than by launching your apps through running the executable name… you know the drill? WindowsKey+R to get the Run dialog (it's so much faster than pressing Start), then enter the app's real name and you're off to the races. winword, excel, calc, notepad… they're for novices. The genuine hardcases might even dive into the (old fashioned, obvs) Control Panel applets like ncpa.cpl rather than navigating umpteen clicks.
Looking at the shortcut to OneNote's modern app above, though, it's clear there isn't a simple executable to run – onenote will launch the on-life-support OneNote 2016 version.
Many modern apps do, however, let you launch them from the Run dialog by entering a name with ":" at the end…
Examples include:
| | |
| --- | --- |
| onenote: | Modern OneNote (annoyingly, you may get prompted to open in OneNote 2016 – just hit cancel and it goes away) |
| ms-settings: | The new-fangled control panel. You can tag on other commands like ms-settings:display or ms-settings:windowsupdate but you might be quicker clicking the icon than typing all of that. |
| bingmaps: | A good bit quicker than launching the browser and navigating to the maps URL, even if you do press ALT-D to set focus to the address bar, and type bingmaps <CTRL-ENTER> to auto-fill the www. and the .com |
| outlookmail: | Even though it's not real Outlook, this launches the Mail part of the Mail & Calendar store app. outlookcal: does the other bit. |
| ms-windows-store: | For when you can't wait to check out all the great new apps in the Microsoft Store. |
| fb: | If you feel the need to do a personality test or look at other people's holiday photos. |
More on this, later…