The Power Platform – an umbrella term that encompasses a load of technology most often associated with business applications like Microsoft Dynamics – has some capabilities that are being increasingly surfaced to more end users, and which could see new ways of interacting with data and functionality that have traditionally been siloed in monolithic back-end applications.
The artist formerly known as Common Data Service was given a jazzy new name at Inspire 2020, before a sudden realisation that somebody else already owned that trademark, whereupon it was swiftly rebranded Dataverse. In essence, this makes it easy to provide access to a centralised, well-managed, secure data store for pretty much any kind of data, accessible to pretty much any type of app.
If you used Power Apps and Dataverse to build line-of-business applications, accessible via browser or mobile clients, there are licensing requirements you'd need to fulfil – but if you want to make a more simplified application that uses Teams as its front-end, then you could use Dataverse for Teams (briefly known as Project Oakdale, using Power Apps under the covers). Licensing for Dataverse for Teams is included in many Microsoft 365 subscriptions – for more details on licensing and what some of the limitations of its use are compared to a full-blown Dataverse environment, see here.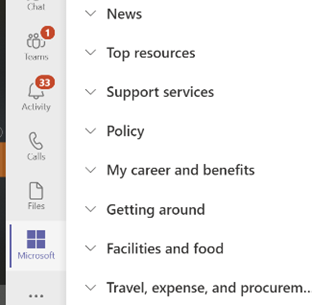 As discussed in last week's ToW, there is already a Viva Insights Teams app available and there will be more coming soon – in fact, there's a dogfood Viva Connections app already, which shows the MSW homepage within Teams, under the app name "Microsoft". If you're in the "Microsoft" app and click again on its logo, a shortcut menu of supposedly commonly-accessed information services appears.
Thankfully, when you need to perform your weekly check on which policies have been updated – or which ones you may have breached this time – they're only a couple of clicks away.
There are hundreds of apps written for Teams – you can browse and search within the Teams client, or take a look on AppSource from a browser.
It's also possible to pin your favourite apps to the Teams sidebar, either by opening from the Apps function and then right-click the icon when it shows underneath the others on your side bar, or by simply dragging the icon to be higher on the bar – the assumption being that if you want to move that icon up the list, you're probably looking to Pin it for the future.
There are a couple of new "template" apps that have been released by Microsoft, using Dataverse for Teams, and customisable using the simplified Power Apps editor within.
The Bulletin and Milestones apps are available now.